We support lecturers, who want to change their lectures to Service Learning lectures or to conceptualize new Service Learning lectures, with pleasure. For more information about Service Learning, we created a PDF including a FAQ. Unfortunately, the PDF has not been available in English yet. We work on creating the English PDF. Please contact us if you have any questions. We are looking forward to help you with any issue.
Download the German version here
Service Learning ist ein Lehr-/Lernkonzept, das Lernen und Engagement verbindet. Im Rahmen von Service Learning Seminaren erlernen Studierende theoretische Inhalte (Learning-Komponente), die unmittelbare Relevanz für ein Anwendungsgebiet haben. Das neu erlernte Wissen wenden die Studierenden im gemeinnützigen Bereich praktisch an, indem sie mit einer konkreten Dienstleistung für einen realen zivilgesellschaftlichen Auftraggeber Bedarfe der Gesellschaft decken. Auf diese Weise ermöglichen projekt-, problem- und kooperationsorientierte Service Learning Lehrangebote ein ganzheitliches, erfahrungsbezogenes und handlungsorientiertes Lernen.
Erste Informationen zum Lehr-/Lernkonzept Service Learning erhalten Sie auf unserer Homepage (www.uniaktiv.org). Gerne können Sie auch Kontakt mit uns aufnehmen, um weitere Informationen zum Thema Service Learning im Allgemeinen und Service Learning Seminaren an der UDE im Konkreten zu erhalten. Eine detailliertere Einsicht in die Möglichkeiten, Bedingungen, Strukturen, Methoden, Evaluation und Forschung zu Service Learning (Seminaren) kann gleichermaßen in Altenschmidt et al. (2009) eingenommen werden.
Mit Service Learning können Sie
neue Forschungsthemen entdecken,

theoretische Inhalte im Anwendungskontext vermitteln,

gesellschaftliche Herausforderungen erlebbar

m

achen,

Schlüsselkompetenzerwerb in die Fachlehre integrieren,

öffentlich sichtbar lehren,

Praxis

-

und Feldkontakte herstellen,

attraktive und motivierende Seminare anbieten.

Mit Service Learning können Ihre Studierenden
t

heoretisch erworbenes Wissen unmittelbar in der Praxis anwenden und erproben;

Praxiserfahrungen sammeln, die im späteren Berufsleben relevant werden;

Schlüsselkompetenzen,

wie

T

eamwork,

Führungskompetenz,

Selbstkompetenz,

Projektmanagement und kommunika

tive Kompetenzen, ausbauen und erweitern;

erhalten für die erfolgreiche Teilnahme ein offizielles Zertifikat von UNIAKTIV;
Ja. Service Learning ist ein Lehr-/Lernkonzept, das sich uneingeschränkt für alle Bachelor- und Masterstudiengänge aller Fakultäten eignet. Konventionelle Seminare können meist ohne große Schwierigkeiten an das Service Learning Konzept angeglichen werden. Sie können aber auch - gerne gemeinsam mit uns - eine ganz neue Seminaridee entwickeln.
5. Wie muss ich bei der Umsetzung eines Service Learning Seminars vorgehen?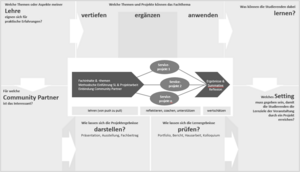 Ihr Interesse und Ihre Bereitschaft sind die Basis für die Umsetzung eines Service Learning Seminars. Überlegen Sie vorab, was der Anlass für Ihr Seminar ist und in welchem Gegenstandsbereich und/oder Themenbereich Sie mit gemeinnützigen Kooperationspartnern zusammenarbeiten möchten. Die folgende Grafik zeigt einige Aspekte auf, welche in die Planung eines Seminars einbezogen werden sollten.
6. Wie unterstützt UNIAKTIV mich bei meinem Service Learning Seminar?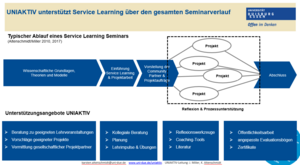 Ja. Die Leistungen von UNIAKTIV stehen allen interessierten UDE-Lehrenden aller Fakultäten zur Verfügung. Wie Sie in derfolgenden Grafik sehen können, bieten wir von UNIAKTIV an, Sie während des gesamten Semesters zu begleiten und nach Ihren Bedarfen zu unterstützten: von der Suche nach geeigneten Partnerorganisationen bis zur Erstellung von Zertifikaten.
Kontaktieren Sie uns und wir vereinbaren gemeinsam ein Erstgespräch, um Sie bei der Entwicklung und Umsetzung Ihres Service Learning Seminars unterstützen zu können.
Viele Aufgaben, die Sie für ein Service Learning Seminar übernehmen, realisieren Sie bereits in konventionellen Seminaren. Im Wesentlichen müssen Sie im Vorfeld des Seminars vor allem
den Seminarablauf planen;

entscheiden, ob Sie von UNIAKTIV eine Einführungsveranstaltung, in der das Lehr

-

/L

ernkonzept Service Learning den Studierenden vorgestellt wird, wünschen;

in Kontakt mit dem/den Kooperationspartner(n) treten;

ein

a

usgewogenes

V

erhältnis

d

er

S

ervice

-

u

nd

L

earning

-

Komponente

berücksichtigen;

die terminliche/räumliche Planung des

S

eminars organisieren.
Service Learning lebt vom Engagement. Daher steht die Bereitschaft, Studierenden theoretische Inhalte zu vermitteln, die sie anschließend aktiv für eine gemeinnützige Einrichtung umsetzen können, im Zentrum. Oberste Prämisse eines Service Learning Seminars ist der im Vorfeld des Seminars geklärte wechselseitige Nutzen für Sie als Lehrende(r), den/die Kooperationspartner und die Studierenden.
Die Anzahl der Kooperationspartner richtet sich nach der Anzahl derStudierenden, die effektiv an Ihrem Service Learning Seminar teilnehmen (werden) sowie nach dem Anlass respektive nach der für den Kooperationspartner zu erwirkenden Dienstleistung. Grundsätzlich stehen Ihnen zwei divergierende Möglichkeiten zur Verfügung:
Sie kooperieren mit nur einer gemeinnützigen Einrichtung in Ihrem Seminar, die ein

und/oder mehrere Bedarf(e) hat, die von Ihren Studierenden in verschiedenen

Gruppenkonstellationen gedeckt werden.

sie kooperieren mit mehreren gemeinnützigen Einrichtung

en in Ihrem Seminar, die

ein

u

nd/oder

m

ehrere

B

edarf(e)

h

at/haben,

d

ie

v

on

I

hren

Studierenden in

Gruppenkonstellationen gedeckt werden;
Für eine konkrete Dienstleistung hat sich eine maximale Gruppengröße von fünf Studierenden als erfolgreich erwiesen.
Bei der Suche nach passenden Kooperationspartnern sind Sie nicht alleine: Wir unterstützen Sie! Durch das 15-jährige Bestehen von UNIAKTIV verfügen wir über ein ausgebautes Netzwerk zu verschiedenen gemeinnützigen Einrichtungen, mit denen wir bereits im Rahmen von Service Learning Seminaren sowie individuellen Engagementvermittlungen zusammengearbeitet haben. Gerne suchen wir für Sie passgenaue Kooperationspartner. Sollten Sie oder Ihre Studierenden über bereits bestehende Kontakte zu Non-Profit- Organisationen verfügen, begrüßen wir ein solches Engagement und würden uns über eine Kontaktvermittlung freuen.
Sollte ein Kooperationspartner sich nicht bei Ihnen melden, nehmen Sie bitte Kontakt mit uns auf: Gerne versuchen wir, den Kontakt wiederherzustellen. Sollte es dazu kommen, dass ein Kooperationspartner (kurzfristig) absagt, dann ist dies sehr schade, aber kein Hindernis für die Realisierung Ihres Service Learning Seminars. In einem solchen Fall versuchen wir, einen attraktiven alternativen Partner für Sie zu gewinnen.
12. Wie sieht ein klassischer Service Learning Seminarablauf aus?

Ein klassisches Service Learning Seminar besteht aus drei elementaren Phasen: Die Theoriephase, die Projektphase und die Abschluss-/Reflexionsphase.
In der

T

heoriephase

v

ermitteln Sie Ihren Studierenden den notwendigen theoretischen

Input. Eine Einführung zum Konzept Service Learning und/oder Projektmanagement

kann bei Bedarf von UNIAKTIV durchgeführt werden.

In

d

er

P

rojektphase

l

ernen

d

ie

S

tudierenden

d

ie

V

ertreter/i

nnen

d

er

j

eweiligen

gemeinnützigen Einrichtung kennen, die/der die Einrichtung vorstellt sowie die konkrete

gesellschaftliche Problemstellung. Die Studierenden arbeiten selbständig und unter

Berücksichtigung des theoretisch erworbenen Inputs an den jeweili

gen Projekten.

In der

A

bschluss

-

/Reflexionsphase

p

räsentieren die Studierenden

-

ggf. mit den

Kooperationspartnern

-

ihre Ergebnisse und reflektieren gemeinsam mit Ihnen das

Service Learning Seminar.
In der folgenden Abbildung ist der Ablauf eines typischen Service Learning Seminars einmal dargestellt.
Hier sind einige erfolgreiche Beispiele von Service Learning der vergangenen Jahre an unserer Universität aufgeführt:
Didaktisches Handeln angehender Bildungswissenschaftler (Arend

-

Steinebach 2016)

Gamification in der Medianinformatik (Schmidt, Emmerich &

Masuch 2016)

Gesundheitsökonomische

E

valuation

u

nd

V

ersorgungsforschung

i

m

Medizinmanagement (Biermann, Weschenfelder & Mostardt 2016)

Kreativität und Ideenfindung im Optionalbereich (Blank 2009)

Mathematikdidaktik (Böttinger 2016)

Öffentlichkeitsarbeit i

m überfachlichen Optionalbereich (Ossenberg 2016; Hagemus

-

Becker & Altenschmidt 2019)

Philosophiedidaktik (Albus & Altenschmidt 2014; Albus, Altenschmidt & Borghardt

2014)

Qualitätsmanagement in der sozialen Arbeit (Miller, Weingarten & Filetti 2009)

Quan

titative Methoden in der empirischen Sozialforschung (Müller & Naevecke

2011)

Soziologie, öffentliche (Altenschmidt & Peres da Silva 2020)

Sprachförderung in der Grundschule (Schäfer & Brall 2016)

Transdisziplinäre Metropolenforschung, Urbane Systeme (Moebu

s, Tran & Gurr 2016)

Wirtschaftsinformatik (Beul 2009

)
Ja. Service Learning basiert auf Gruppenarbeit, dem direkten Austausch mit Non-Profit-Organisationen und Reflexion. Seit Beginn der Corona Krise arbeitet UNIAKTIV daher intensiv daran Service Learning auch im Digitalen Raum umzusetzen. Wir lösen damit nicht alle Herausforderungen, schaffen aber ein produktives Umfeld in dem Engagement und interaktives Arbeiten auch in Corona Zeiten möglich ist. Daher bieten wir auch in diesem Semester an Service Learning mit Ihnen gemeinsam im Digitalen zu ermöglichen. Weitere Informationen zur Umsetzug von Service Learning in Corona-Zeiten können Sie hier finden.